Hotel Investment Opportunities and Properties Over $20,000,000
Hotels for Sale, Motels for Sale, Property, and Other Investment Opportunities by A-1 Realty
A-1 REALTY - COMMERCIAL REAL ESTATE INVESTMENTS
Updated -

For questions, click here to send an e-mail to A1- Realty
602 W. Midway Road Fort Pierce, Florida 34982 - U.S.A.
Phone (772) 971-7650 Fax (772) 468-1926
TO THE OWNERS OR SELLERS OF HOTELS, COMMERCIAL INVESTMENT PROPERTY, OR TRIPLE NET PROPERTIES,
ARE YOU THINKING OF SELLING? CALL US TODAY FOR A CONFIDENTIAL BROKER PRICE OPINION.


| Home | Contacts | up to $5,000,000 | 5 to $10,000,000 | 10 to $20,000,000 | Over $20,000,000 |Hotel Real Estate Investment Opportunities
| Gas Station Investments (page 1) | Long Term Triple Net | High-end Development | Residential Properties | High-end Residential |
| Land (Acreage) | Land (Acreage) (page 2) | Land (Acreage) (page 3) | Land (Acreage) (page 4) | Business Opportunities |
|

Apartment Building

s | Hotel Management | Joint Ventures | Note Loans | Properties for Lease |
| Mobil Home Parks | Bank Foreclosure Opportunities |
---
Ref # O20MM-098
5 Star Luxury Hotel
Trophy Asset located in Manhattan, New York
<![if !vml]>

<![endif]>
Confidential Sale

Year opened: Less than 5 years old

High-Rise Facility

Trophy Asset

EBITDA 2016-$15 Million, Net Income in Year 5-$20 Million

Management &Franchise Agreement to be negotiated directly with the Franchisor

Price: $430 Million
---
Ref # O20MM-097
Investment Portfolio For Sale
South Florida
A-1 Realty Investments - Private Exclusive Opportunity
A portfolio of 5 Florida Properties owned by our Client

40,000 SF Office Building

15,000 SF Office Building

27,000 SF Office Building

Deepwater, Ocean Access 40 Slip Marina, 13 waterfront apartments and retail. (sold with Rare Entitlements)

Majority control in a 150 Unit oceanfront Condominium Hotel (550 SF Suites) 1/3 Mile of direct Oceanfrontage

Sale includes Restaurant and 50 slip Deepwater Marina, Located in The highest barrier to entry market in the US

Portfolio Asking Price: $54,700,000

Note: 120 Acre Country Club with 18 Hole Golf Course may also be purchased directly next door for $34 Million (over Ĺ mile of waterfront)

240 units can be developed to make way for a $240 million Exit strategy once stabilized. (Separate Client)
For more information or for any questions, please donít hesitate to contact me at chriswunderhill@gmail.com
---
Ref # O20MM-096
For Private Sale
Five (5) Hotel Portfolio, East Texas
8.5% Cap Rate
Total room revenue of $8,132,533, Net Income-$2,994,683
(After 4% for management and reserves)
East Texas Hotel Portfolio

Holiday Express

Holiday Express

LaQuinta

Country I&S

Staybridge

Texas

Texas

Texas

Texas

Texas

TOTAL

TTM Dec. 2015

TTM Dec. 2015

TTM Dec. 2015

TTM Dec. 2015

TTM Dec.2015

Room Revenue

$1,550,312

$1,102,032

$1,564,055

$1,192,945

$2,723,189

$8,132,533

Total Expenses

$798,560

$592,245

$903,628

$649,755

$1,186,166

$4,130,354

GOP

$751,752

$509,787

$660,427

$543,190

$1,537,023

$4,002,179

Fixed Charges

$96,149

$73,723

$100,827

$16,926

$137,265

$424,890

Net Operating Income

$655,603

$436,064

$559,600

$526,264

$1,399,758

$3,577,289

Add:

$0

Management fee

$56,000

$12,000

$68,000

Less:

4% Management fee

$62,013

$44,082

$62,562

$47,718

$108,928

$325,303

4% Reserve fee

$62,013

$44,082

$62,562

$47,718

$108,928

$325,303

Adjusted Net Operating Income

$587,577

$347,900

$446,476

$430,828

$1,181,902

$2,994,683

NOI % of Revenue

38%

32%

29%

36%

43%

Occ.

65.5%

51.7%

76.15%

56.1%

79.5

ADR

$97.96

$86.82

103.75

82.68

$103.25

RevPar

$63.98

$44.85

$79.63

$46.40

$82.13

# Rooms

66

68

73

69

86

362

Opened

11-2008

2-2012

12-2014

Jul-09

Jan. 2011

Cap Rate

8.50%

8.50%

8.50%

8.50%

8.50%

Purchase Price

$6,912,671

$4,092,941

$5,252,659

$5,068,565

$13,904,729

$35,231,565
New acquisition financing available to purchase this Portfolio, please inquire.
---
Ref # O20MM-095
Hotel Investment Opportunity
South Florida/HUGE upside
90 Unit Hotel

Oceanfront Hotel

Over 1/4 Mile of direct Oceanfrontage

Very Recent Sales Comps on over 12 Hotels show an average selling price of $365,000 + per key

4+ acres of Direct Atlantic Oceanfrontage

Sale includes Restaurant and a Marina

Resort needs renovations to re-open

Selling price : $250,555 per Unit

Private off market sale

Time is of the essence, an opportunity like this comes once in a lifetime
This is a Private Investment Opportunity not listed in MLS, nor any other Websites.
As always, Offers are addressed on a First come, First serve Basis.
With our Platform there is no bidding, no call for Final offers
For Detailed information and a CA agreement, please donít hesitate to contact me
602 W. Midway Road Fort Pierce, Florida 34982 - U.S.A.
Phone (772) 971-7650, Fax (772) 468-1926
---
Ref # O20MM-095
For Private Sale Hotel Portfolios
May be purchased with or without Management
Southeast
<![if !vml]>

<![endif]><![if !vml]>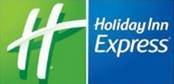 <![endif]>
<![if !vml]>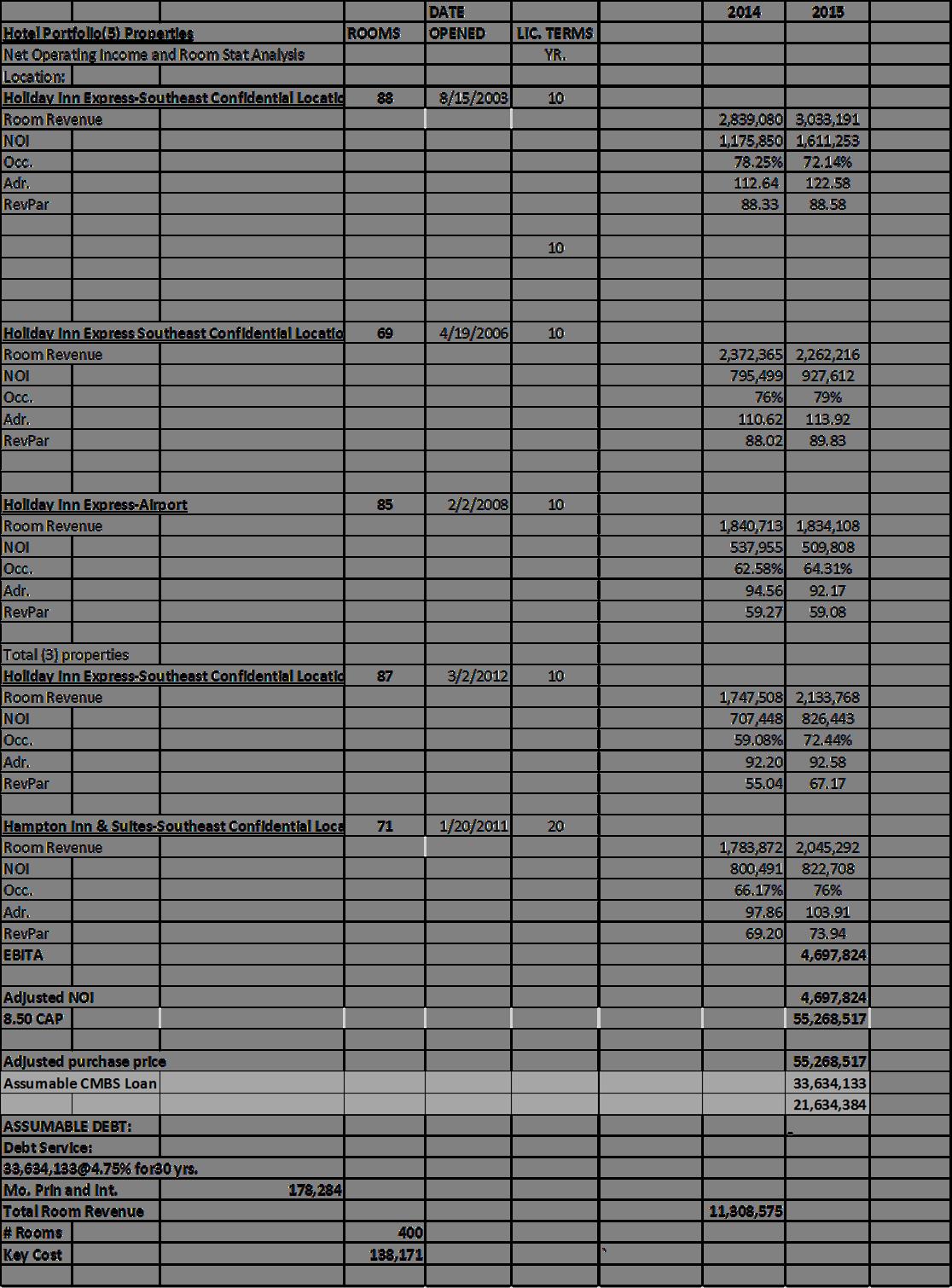 <![endif]>
Midwest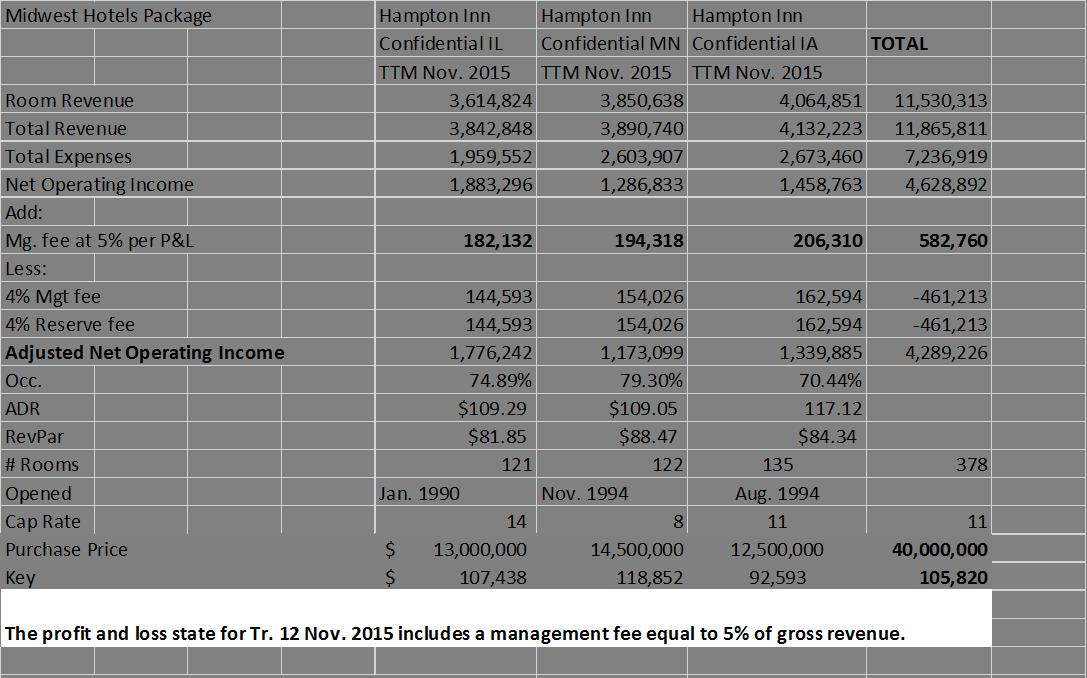 ---
Ref # O20MM-094
For Private Sale
Hotel Investment Opportunity
110 Unit Upscale Extended Stay Franchise

Washington D.C MSA.

Strong location and Demographics

Brand new construction

Selling turnkey and asking $23 Million.

A superb Institutional Quality Lodging investment
Grand opening 2ND quarter 2016 Management available or may purchase without Management
This institutional quality Facility offers the Buyer an attractive 20 year Franchise License, with no PIP, all warranties/guaranties with a brand new construction hotel and a Seller who has gone thru all the brain damage with the completion of the development. Price negotiable and will look at offers.
---
Ref # O20MM-093

Private Purchase Opportunity

Florida Oceanfront Hotel

600+ feet of direct oceanfront

Superb Value Added play with Double Branding Possibility
UNITS: 335

STORIES: Six-Story Tower & 2-Story Buildings

YEAR OPENED: 1971-1987

LOT SIZE: 11.5 Acres, 617 ft on the ocean.

OCEANFRONTAGE: 617 feet (Hotel sits on 11.5 acres)

CORRIDORS: Double-loaded Interior/Ext

CONSTRUCTION: Concrete Block/Stucco

LAST YEAR RENOVATED: Continuous

ELECTRONIC LOCKS: Yes

ELEVATORS: Yes

LAUNDRY:3 commercial washers 4 commercial dryers

ZONING: GC-39 (Hotel/Motel) 40 du/Ac

EPA: No known issues

RESTAURANT: Full Service

MEETING FACILITIES: Yes

CONDITION: AAA Three Diamond

HVAC: Individual Thru-the-Wall Units

REVPAR: $81.08

ROOM REVENUE: $9,975,806

NET INCOME: $3,249,185

ROOM REV PER UNIT: $29,978

KEY COST: $134,328

TOTAL REVENUE: $11,865,692

OAR: 51.9% @ $156.32

PRICE: $45 Million

Owner prefers JV Partner to build 800 Units Here.
Comments: A great value lodging investment in a High Barriers location on the beach in SE Florida. The facility has been owned by the same family for over 35 years and has established goodwill and repeat clientele. There is literally no other property like this in the entire state of Florida or in the southeast United States. The hotel sits on 11.5 acres of direct ocean with over 600 feet of direct oceanfront. Superb double branding opportunity in a supply constrained beach market. For detailed information, please contact Chris Underhill.
---
Ref # O20MM-090
Private Acquisition Opportunity
Under Letter of Intent
1,200 units

$4.5 Million Net Income

Class B Apartment Investment Opportunity

$74 Million Price

97 Percent Occupied

Older properties 70ís, $8 million spent on renovations/rehab

Can be purchased for all cash

Consistent money maker or great redevelop opportunities
For additional information, please donít hesitate to contact me for a Confidentiality Agreement.
---
Ref # O20MM-088
CONFIDENTIAL SALE
Toyota Operating Car Dealership
$8.8 Million Net Income
Brand compliant, High Margin Store
Southeast US
Institutional Quality Real Estate included with Sale
Rare Opportunity

Operating Car Dealership, confidential , doing well over $100 Million in sales

Toyota branded

Brand compliant

No CapEx requirements

High margin store

EBITDA of $8.8M in 2013

Institutional Quality Real Estate included with Sale, or the option of purchasing the Business only is available

Purchase price 5.85 x Blue Sky estimated purchase $85-$105 Million (includes real estate)
Experienced Principals with Resume and Proof of Funds, please email A1-realty@comcast.net
for a Consulting Agreement to receive detailed information.
---
Ref # O20MM-087
Private acquisition opportunity
Winn Dixie Anchored Shopping Center in Southeast Florida
YEAR RENOVATED: 2007 AND 2013

LEASED: 90%

SQUARE FOOTAGE: 140,320

DEBT: $15,650,000 with a 4.45% Interest Rate

DEBT MATURITY DATE: 12/6/22

NOI: $1,919,780

PRICE $27,425,428 + Buyers premium
---
Ref # O20MM-085/p>
For Private Sale
Single Tenant Net Lease Investment Opportunity
Tenant: Credit

Guarantor: Investment Grade

Location: North Carolina

Property Type: Single Tenant Distribution Facility (part dry/cold storage)

Award winning (2009 SPACE Award for Top Warehouse/Flex

Development), state of the art, single story, dry/cold storage

facility with tilt-up, masonry exterior walls and 32í clear heights.

Lease Type: Absolute Bondable Net Lease (No Landlord Responsibilities)

List Price: $34,631,232

Lease Term: 20 Years with 4 - 5 year renewals

Base Rent: August 2014: $2,164,452

1% annual escalations in primary term and option periods

Cap Rate: 6.25%

Year Built: 2009

Rent Commencement: August 1, 2009

Lease Expiration: September 31, 2029

Building Sq. Ft.: 132,319 Total square feet

12,000 square feet of Office (9.1%)

120,319 square feet cross-dock warehouse (divided into two sections:

68,319 sq ft (51.6%) dry storage and 52,000 sq ft (39.3%) cold storage.

Land Size: 20.14 +/- acres

Financing: Assumable 10 year fixed financing at 5.9% interest rate. Loan amortizes

over 30 years starting January 2014. Original loan balance of

$18,147,500. Debt service starting in January 2014 will be $1,291,673.

NOTE: Loan is currently in an Interest Only period which will expire in

January 2014. Loan matures January 2021.

Property can be delivered free and clear for a sale price of $34,000,000.
---
South East hotel sales - many hotels and motels for sale
Long Term Triple Net Investment Properties, Gas Stations and Convenience store / Gas Station combos.

Sellers - Looking to sell ?

Call us
Southeastern I-95 Corridor Specialists
No other company has a larger buyer data base than us !

NETTING SELLER'S MORE
MONEY FOR THEIR PROPERTIES.
Hotel / Motel and Commercial Real Estate Brokerage
Need help with financing ?
Call us, We place commercial loans ! !
* OFFERS ARE ENCOURAGED *
** A-1 REALTY ARE TRANSACTIONAL BROKERS **


| Home | Contacts | up to $5,000,000 | 5 to $10,000,000 | 10 to $20,000,000 | Over $20,000,000 |Hotel Real Estate Investment Opportunities
| Gas Station Investments (page 1) | Long Term Triple Net | High-end Development | Residential Properties | High-end Residential |
| Land (Acreage) | Land (Acreage) (page 2) | Land (Acreage) (page 3) | Land (Acreage) (page 4) | Business Opportunities |
| Apartment Buildings | Hotel Management | Joint Ventures | Note Loans | Properties for Lease |
| Mobil Home Parks | Bank Foreclosure Opportunities |


"This site may contain links to other sites. These links are not necessarily endorsements by this site."
The gifs, images, and content displayed on this page are believed to be in the public domain.
If you see a file or image that you feel should not be displayed there for any reason,
please send email, and the file in question will be removed immediately.
This site would not intentionally infringe on any copyright.
For questions about this page contact SPTreece
Hotels & Motels for Sale, Property, Land,
Land Development, and Other Investments by A-1 Realty
A-1 REALTY - COMMERCIAL REAL ESTATE INVESTMENTS
A1- Realty specializes in Florida hotels for sale, Florida motels for sale, motels, hotels, inns, FL hotels for sale, FL motels for sale, FL water frontage, Florida land, Florida real estate, investments property, gas station investments, gas stations, service stations, high-end residential properties, land, long term triple net property, triple net property, NNN, triple net properties, ocean development properties, ocean front, ocean property, port saint Lucie homes, real estate, real estate agent, residential, resort investments, resorts opportunities, rooms, treasure coast, water access, Waterfront Lots, Waterfront property, acreage, ranch, ranches, businesses for sale, Residential Acreage, commercial real estate, and development land for sale